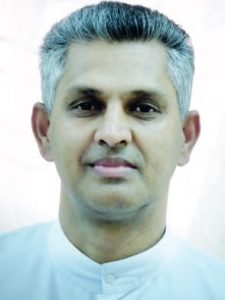 Loyola College, the premier educational choice of parents and students in Garo Hills, is in its 5th year. Spread on a 25-acre campus, located four kms away from the town of Williamnagar, Loyola has two elegant brick buildings that host spacious classrooms and an extensive library. In the college hostel for ladies the rooms are attractive and comfortable, with an airy, open design interspersed with developing gardens and seating. The staff quarters is a three-storey building on the campus of a secure and restful apartment with spacious rooms and amenities.
The college was started with an objective of providing quality education in leadership and co-curricular activities along with strong academics. It is our mission to prepare the youth of this land to take their productive place as leaders of Garo communities by offering them a comprehensive education in a nurturing and happy environment. In this environment our students not only achieve excellence in academics, sports and co-curricular activities but also grow as individuals. We believe in the strong Ignatian tradition as is reflected in our activities and in our emphasis on cura personalis, magis, leadership and service. The future will build on these firm foundations of Loyola College.
As we are ready to set our foot in the 8th year of Higher Secondary, it gives me immense pleasure to share with you that Loyola will introduce a science stream in the academic year 2018 to the already existing arts and commerce streams. It is my belief that you will be delighted as we unveil the college's science block as it is going to meet the important need of science education.
At Loyola, the educational community strives for excellence by preparing students for learning beyond their college years and assisting them to become lifelong learners, as well as helping them to be self-directed and responsible decision makers in our ever-changing world. Ultimately, each learner will gain from Loyola according to the effort they apply. We foster an educational environment that emphasizes individual attention, self-esteem and personal responsibility.
I take this opportunity to acknowledge the commitment of our staff and faculty who help our students to excel in their learning. One of the things said of Loyola is that there are strong relationships between staff and students. With 996 students, we can provide more personal support and greater access to opportunities in each student's chosen field of interest. We are grateful to our parents and visitors who compliment us on the warm and orderly college atmosphere and friendly relations.
Let us all take Loyola's 'good practices' forward and explore new avenues in the Jesuit tradition of excellence. Every day and every moment presents opportunities which are a wakeup call for adaptation to new ways of learning and achieving. Such conscious activities ought to permeate throughout Loyola. I wish that we make good use of our practices by being passionate in academic and co-curricular activities for they are co-related and are the determining factors to our happiness.
May God bless us abundantly in 2018